Harnessing Disruption: 6 Trends Next-Gen Manufacturers Can Embrace to Increase Competitiveness & Resiliency
Manufacturing companies are under increasing pressure to improve the performance and efficiency of their operations, while at the same time, transforming their overall business model. The pathway to balance traditional manufacturing goals (keep costs low and production high) while remaining nimble to embrace change (including new technologies, processes, revenue and operating models) present additional challenges which must be continually balanced. Today, manufacturing leaders are moving exponentially faster and juggling more priorities than ever. As stakeholders navigate a more volatile world, no longer can companies count on their tried-and-true methods. Instead, they must look to the future, one in which six trends have reached a tipping point and are helping to usher in a new age of next-generation manufacturing.
Roland Berger and Manufacturers Alliance partnered to explore the global megatrends shaping the manufacturing landscape through research survey and interviews with manufacturing executives. Read the report. During this webinar, we will investigate these global megatrends and lay out frameworks and provide insight into what next-gen manufacturers are doing to ensure long-term success, and how their best practices can help create a roadmap for other manufacturers looking to increase their own competitiveness and resiliency.
Speaker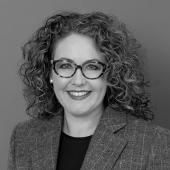 Michelle Drew Rodriguez
Partner, Roland Berger
Michelle Drew Rodriguez is a Partner in Roland Berger's Chicago office. She has over two decades of industry and consulting experience with a special focus on corporate strategy, mergers and acquisitions, innovation, and next generation manufacturing. She has extensive experience and aptitude for creating and scaling growth opportunities, forging strong relationships, driving complex large-scale business transformations, developing industry recognized thought leadership, and building large high-performing diverse teams. She has led global players on growth & market entry strategies, organic and inorganic growth, broad based innovation, performance improvement, and business model transformation. Prior to joining Roland Berger, she worked with leading automotive and industrial groups around the world.
Michelle studied Mechanical Engineering at the University of Wisconsin and holds an MBA from the University of Michigan.