People Spotlight
Creating a Culture of Innovation
Insights from Raj Batra, President, Digital Industries USA, Siemens
January is traditionally the time people and organizations plan or reevaluate how they are progressing on their goals. We had the opportunity to connect with Raj Batra, President of Digital Industries USA at Siemens, to catch up on its latest initiatives, what Raj is focusing on in 2022, and fostering innovation and leadership.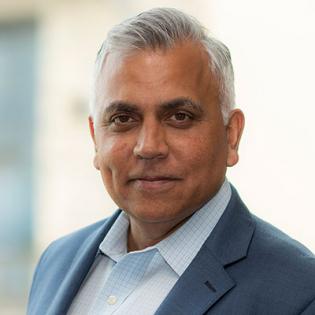 "Data is king. Factories generate enormous quantities of it. In one month, an automated and digitalized factory can generate the same amount of data you would find in 500,000 Netflix movies."

— Raj Batra ,

President of Digital Industries USA, Siemens
Q1: As you think about the year ahead, what is most exciting to you for the future of manufacturing?
This year we have the opportunity to continue accelerating the digitalization of U.S. industry. The unexpected silver lining of the last few years has been the rapid adoption of new technologies, with 85% of companies fast-tracking their digital transformation. The pandemic sped up digitalization by three to seven years within the span of just a few months, according to McKinsey.
In 2022, we can expect to see more examples of companies embracing technologies like AI, industrial edge, additive and industrial 5G. This is all happening against the backdrop of what I call "the big crew change" in U.S. manufacturing. The trend was already well underway before the coronavirus hit and has been compounded by the Great Resignation. Millennial talent is moving into more leadership positions and bringing with them a set of technology experiences that are unlike those of previous generations. If you grew up with streaming media, smartphones and apps, you'll absolutely have a different mindset from a Generation Xer or a baby boomer. And believe me, if you want to attract early-career talent to your company, you better have a technology infrastructure that will excite more tech-savvy job seekers.

Q2: You have been public with your focus on diversity, equity, and inclusion (DEI) and how to be an ally in the workplace. As manufacturers grapple with recruiting and retaining talent, do you have any advice on how companies and leaders can be allies to create more equitable organizations?
We recently held an event at Siemens where we took time to reflect on what it truly means to be an ally. Listening to each other and making sure people know they are being heard are so important. As leaders, it is incumbent on all of us to foster a culture of equity in our organizations. That starts with seeing the world from a different perspective and creating a sense of belonging for all employees.
In a work from home environment, this can be more challenging than it was in the past, but it's still achievable. I am constantly amazed at the creative ways employees in my own organization have managed to stay connected with each other even when we can't be together in the same location as frequently as we were in the past. My advice to other business leaders is to be open to new ways to nurture your company culture. That concept of a virtual talent show may seem a little unconventional at first glance, but if it reignites team spirit and boosts morale, why not?
Have an open mind about what is normal in "the new normal." Siemens was a very early adopter of hybrid working arrangements with its announcement way back in the summer of 2020 of a global standard for mobile working. This policy empowers employees, conveys trust and boosts equity, which is why so many studies show that job seekers prefer companies offering this type of flexibility.
Q3: Siemens was named a visionary in Gartner's Magic Quadrant for Industrial IoT Platforms®. Can you share your thoughts on how to create and nurture a culture of innovation?
It's great to be recognized by Gartner as the sole Visionary vendor in its 2021 Magic Quadrant for industrial IoT platforms. Gartner describes Visionaries as the innovators that drive the market forward by responding to emerging, leading-edge customer demands. We're able to achieve this because we believe so strongly in staying close to our customers and creating "Technology with a Purpose." A great example is our work with Coca-Cola HBC in Austria. With our Industrial IoT platform MindSphere, they were able to turn their data into actionable knowledge. As a result, they can react more quickly to anomalies in the plant and have already reduced line downtime by 2%, all with an ROI of six months.
Stories like these are possible because innovation is a major point of pride at Siemens. We spend more than $5B annually on R&D and employ more than 42,000 people in R&D globally. But the magic really happens when you combine all of this with a culture of trust and empowerment.
Q4: "Digitalization," "smart factory," and "Industry 4.0" seem ubiquitous when talking about manufacturing today. Can you help our readers differentiate these terms and give us your expert take on how companies should focus their efforts in these areas to grow?
At Siemens, we define digitalization as the process of connecting digitized information via digital twins and the digital thread. It all begins with the conversion of information (i.e. objects, images, sounds, documents, data, etc.) into an electronically stored digital thread. Next, digitized information is used to build digital twins – virtual representations of physical products, production processes, and operation performance. Analyzing the digital thread and using the resulting insights to improve products and processes across an enterprise is digitalization in practice.
Data is king. Factories generate enormous quantities of it. In one month, an automated and digitalized factory can generate the same amount of data you would find in 500,000 Netflix movies. And it's not just a matter of collecting the data. It's also about using it intelligently – in other words, being a smart factory. That's when data becomes your superpower.
So my advice to anyone running a factory right now is this: Make sure you are capturing the right data and then listening to what it tells you about your products, your production processes and your operational performance. Take action based on that new intelligence. If you follow the data where it takes you, you might find yourself addressing problems causing market share erosion or, conversely, entering an entirely new market.
Q5: Last fall, Siemens announced it was developing a Digital Twin Smart Factory Showcase for LIFT, a public-private institute working with the U.S. Department of Defense. Could you tell us what this means for manufacturers working to realize Industry 4.0 enhancements?
Our work with LIFT, MxD, and other institutions underscores our confidence in the power of public-private partnerships. We're excited to be part of the new LIFT Smart Factory showcase working with the Michigan Economic Development Corporation. The installation will provide a demonstration sandbox for manufacturing companies and economic developers to explore smarter manufacturing technologies.
The full-scale version of the system will allow small and medium-sized manufacturers, as well as students, to follow the digital thread from the tabletop Mechatronics system to a 3D digital twin to 2D component designs to the full-scale version. The system addresses real world KPIs such as how to improve process efficiency, reduce process cost, maximize capital equipment utilization, and effectively manage floor space. We're very excited about the opening which is scheduled to happen late in the first quarter of 2022.