People Spotlight
Leading in the New Norm
Insights from Patrick Dempsey, President and CEO of Barnes
The Manufacturers Alliance had the opportunity to hear from Patrick Dempsey, President and CEO of Barnes. Barnes (NYSE: B) is a global provider of highly engineered products, differentiated industrial technologies, and innovative solutions, serving a wide range of end markets and customers. Patrick serves as the Vice Chair of Manufacturers Alliance Executive Committee and on its Board of Trustees.
Many thanks to Patrick for taking the time to share his insights on innovation and leadership with our members and the manufacturing community.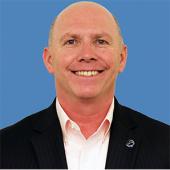 Patrick Dempsey
President and CEO, Barnes
1. Barnes has a deep history of innovation, from its humble beginnings of manufacturing springs for clocks and hoop skirts in 1857 to the critical technologies you provide today required for many industrial production processes and aerospace applications. As the company has grown, how has Barnes continued to foster a spirit of agility and innovation?
There is no question that Barnes has absolutely had a long and proud history of innovation. At the heart of our success have been three constant factors, all of which center around our employees:
Their willingness to constantly adapt to change.
Their ability to continuously reinvent themselves.
Their steadfast adherence to conducting business to the highest ethical standards in alignment with Barnes's Values.
Today, innovation is an integral part of our Barnes Enterprise System and fuels our growth objectives.
2. Barnes is in the midst of a major portfolio transformation under your leadership as CEO. What have been the drivers of your new strategy?
At the heart of our new strategy is the goal of controlling our own destiny. By that, I mean leveraging our core competency of complex manufacturing expertise while at the same time intensifying our emphasis on intellectual property by adding diversified new capabilities such as design engineering, applications engineering, software and hardware skillsets, data analytics, etc. Ultimately our goal is to provide our customers with superior, high value-added products and services and to support them from initial concept through their total lifecycle – including aftermarket support and remote data analytics.
3. Any lessons learned from the economic and social turmoil of the past year that have caused you to adapt yet again or think about your business differently?
The pandemic we have all lived through over the last year is unprecedented in modern times, and I have to say how proud I am of how the Barnes team stepped up to the challenge. With some minor and temporary exceptions, all our businesses remained operational throughout the crisis, and while we adjusted to lower demand, the teams sought out new opportunities that previously were not that apparent. Again, our focus was to adapt quickly to the changing circumstances. We saw strong demand in the medical markets we serve because our technologies are instrumental to producing critical medical devices and diagnostic consumables. As such, our team set about developing new capabilities and expediting prototypes to meet the higher demand for in-vitro diagnostics (IVD) applications.
4. Barnes has two major business segments – Industrial and Aerospace: How was your aerospace affected by the challenges of the last year?
2020 was truly an incredible year. Our aerospace business started the year at record-high performance in the first quarter, only to see the airline industry grind to a complete halt a month later as the pandemic took hold. The response of our aerospace team was remarkable, as they acted both quickly and decisively to adjust to the lower demand, having to make some very tough decisions along the way given the magnitude of the decline. The good news is that we see demand beginning to recover in 2021 as we believe there is significant pent up demand for air travel, which will be realized as people get vaccinated and begin traveling again to go on vacation, see their families, friends, and conduct business both domestically and globally.
5. During the past year, how did Barnes think about its future after the pandemic and how it might need to adjust to a "next norm"?
With the onset of the pandemic, our first priority was the safety of our employees, followed next by us adjusting to the lower demand, then looking to capitalize on new business opportunities created by the crisis, and finally making key strategic investments that would position Barnes for future success over the long term. Particularly significant is that in the depth of the turmoil, we announced the launch of our new Innovation Hub, committing significant resources and hiring new engineering talent to develop the next generation of digital solutions to support our products through the Internet of Things and data analytics. Staying close to, and working in partnership with, our customers to understand how we can meet their future needs has been of paramount importance.
6. Patrick, over your 20 years at Barnes you were promoted into multiple leadership roles before taking the President and CEO position. What are your lessons learned and what advice do you have to young people climbing the leadership ladder today?
I have been very fortunate throughout my career to have had great people who mentored me and were willing to take a chance on what they saw as my potential versus the skill or experience I possessed at a given moment in time. I have also been very fortunate to have a supportive family. They were willing to uproot from familiar surroundings (home, school, friends) to move to new unknown places for my next career opportunity. My advice to young people is to first and foremost believe in yourself, be willing to take calculated risks, and always strive to do your best. In time, perseverance will prevail, and your skills and talent will ultimately be recognized and rewarded. Seeking out great mentors is another invaluable strategy to support you as you hone and develop your skills.
7. As you think about your role as the CEO, what's the best piece of management advice you've gotten throughout your career that helped you become the leader you are today?
I often reflect that I could write a book on the invaluable advice I have been given over my career by the many great people I have had the privilege of working with along the way. From my early career as an apprentice in a shipyard, to being an engineer in aerospace, running a global distribution business to now being CEO at Barnes, the greatest piece of advice I received was not necessarily about the business itself but more about the importance of how you treat people and how you make them feel! Great people will always achieve great things. Surround yourself with great talent if you want to win!!!