Analysis
Staffing the Fourth Industrial Revolution
If you ask a CEO what's keeping them up at night, chances are the skilled talent shortage tops the list. This is especially true in the world of manufacturing, where the "Big Crew Change" – the retirement of baby boomers – has left industry HR managers scrambling to tap into new talent pipelines. Now, with COVID-19 risk factors causing some of those baby boomers to retire a little earlier than expected, any hope of coaxing these critical staffers to stay on beyond age 65 is quickly dissipating.
The skilled talent shortage has been mounting for more than a decade. Preliminary data from a Manufacturers Alliance survey of manufacturing leaders on the future of work finds 3 in 4 strongly agree that talent development and retention will separate high- and low-performing organizations in the post-pandemic economy. And looking out over the next several years, 53 out of 100 manufacturing jobs are expected to go unfilled.
Manufacturing output is suffering. In the February 2021 "Report on Business" published by the Institute for Supply Management, labor market difficulties are cited as the "primary headwind to production growth." As one production manager put it in the report: "We are overloaded with orders and do not have the personnel to get product out the door."
It couldn't come at a worse time for U.S. competitiveness. Just as manufacturers start to take a long-overdue look at diversifying their supply chains after too much reliance on China, many are re-discovering the value of stateside manufacturing. Look no further than the spectacular new greenfield plants, expansions, and modernization investments being made by companies like Tesla, Amazon, and Henkel. These companies are leveraging state-of-the-art digitalization technologies that will enable them to boost performance and supercharge growth.
"Many manufacturers are re-discovering the value of stateside manufacturing after over-reliance on China."
This is good news for manufacturing. Jobs at high-tech showcases are desirable and well-compensated. Ask job seekers of any age, and the vast majority will tell you that they are attracted to innovative and digitally-enabled companies. Digital factories are in a stronger position to attract, develop, and retain that skilled talent everyone seeks.
I'm optimistic that as a society, we are in a better position than ever to solve the talent dilemma. The pandemic gave consumers a rare glimpse into what it takes to make production purr in plants large and small. The once forgotten or even maligned job on the factory floor took the limelight with stories of companies that re-tooled to make PPE or ramped up production of therapeutics and vaccines. It's too early to say that industry's well-known image problem is solved, but the makeover has definitely begun.
Getting students interested in manufacturing and industrial careers in the first place is half the battle. Once they are interested, students will find that the jobs are important, engaging, and well-remunerated. According to a study done by our partners at MxD, the nation's digital manufacturing institute, annual compensation in manufacturing averages $73k, and in advanced manufacturing, nearly $95k. What's more, these high-skill jobs are a vital piece of our economic puzzle, with each job in advanced manufacturing industry supporting three-to-five additional jobs in the supply network. And it's no exaggeration to say that things are changing so fast in advanced manufacturing careers; most of the jobs that Generation Z (born 1997-2012) will experience in their lifetimes have not even been invented yet.
Entry into a good manufacturing job doesn't require a bachelor's degree. Career Technical Education (CTE) programs offered at Community and Technical Colleges are the fastest way to gain skills, with many programs offered alongside the traditional high school curriculum. According to the U.S. Department of Education, CTE programs address more than 30 million jobs in the United States paying median earnings of $55,000 or more – many of them being unfilled in manufacturing.
"Siemens is bullish on these programs because these are the skills needed most urgently by our customers."
Siemens is bullish on these programs because these are the skills needed most urgently by our customers. We support the effort through our Siemens Cooperates with Education program, which brings our Factory Automation products to more than 600 schools in the U.S. By providing deep academic discounts on hardware, software, and other materials to technical colleges and universities, we give students hands-on experience with the same technologies that are running modern plants around the world. Our software business has played a pioneering role in putting powerful software into the hands of millions of students at thousands of schools all over the world.
The key is connecting the technology to students. I can personally attest to the importance of practical, hands-on training. After high school, I was part of a co-op work-study program in Detroit. This early combination of the real-world perspective complementing classroom training grounded me in a way that has been influential to my work ethic and problem-solving approaches to this very day.
As we look for ways to fill the skilled talent pipeline, we will always do well to remember that there are many ways to address the problem, not a single right way. We need a whole-of-society approach bringing together the private sector, academia, government, and institutes. When we take this approach, we strengthen U.S. manufacturing to make U.S. industry more competitive than ever before.
Author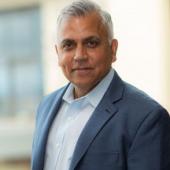 Raj Batra
President of Siemens Digital Industries, USA
Raj Batra is the President of Siemens Digital Industries USA. He is a member of the Executive Committee and the Board of Trustees of the Manufacturers Alliance and the immediate past Chairman of the Board of Governors for the National Electrical Manufacturers Association (NEMA).
Many thanks to Raj for sharing his insights.
---
Opinions expressed by contributing authors are their own.