Sundaram (Naga) Nagarajan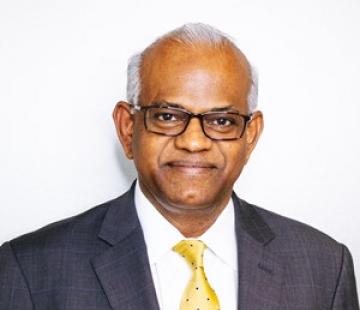 Sundaram Nagarajan serves as the President and Chief Executive Officer of Nordson Corporation, an innovative, precision technology company focused on delivering top tier growth with leading margins and returns in diversified, attractive end markets around the world. Mr. Nagarajan serves on the Board of Trustees at Manufacturers Alliance.
Prior to joining Nordson, Mr. Nagarajan had a 23-year career with Illinois Tool Works Inc., a global manufacturer of a diversified range of industrial products and equipment, where he had roles of increasing responsibility. Mr. Nagarajan was most recently Executive Vice President Automotive OEM Segment, with Illinois Tool Works Inc., since 2015. Under his leadership, the Automotive OEM Segment consistently delivered profitable revenue growth through both organic and acquisitive means. Prior to that, Mr. Nagarajan served as Executive Vice President, Welding Segment, with Illinois Tool Works since 2010. Mr. Nagarajan has served as a member of the Board of Directors of Sonoco Products Company since 2015. Mr. Nagarajan earned a B.S. in Mechanical Engineering from South Gujarat University, India, an MBA from Wright State University, a M.S. and Ph.D. in Materials Science from Auburn University.