Decarbonizing the Manufacturing Industry
Global manufacturing and production account for 20% of greenhouse gas emissions and 54% of energy consumption. With increased focus on Environmental, Social, and Governance (ESG) initiatives from boards and consumers, investors, and much-needed talent looking to purchase from, invest in, and work for companies with significant ESG commitments, manufacturers are working to reduce their carbon emissions.
Manufacturers Alliance, in partnership with Infosys, surveyed almost 200 companies and interviewed cross-functional leaders to understand where the industry stands in terms of decarbonization. Delivering on Carbon Neutral Goals details that many manufacturers are making progress with Scope 1 and 2 emissions, with 45% of respondents advancing their measurements of these emissions. Further advancement into Scope 3 emissions is on the horizon with 28% reporting tracking beyond their factories. At our ESG in Manufacturing Conference in June, Jasmeet Singh, EVP and Global Head, Manufacturing at Infosys, Katie McGinty, VP & Chief Sustainability, and External Relations Officer at Johnson Controls, and Danielle Merfeld, VP & Chief Technology Officer at GE Renewable Energy, reviewed the findings and shared common challenges and best practices to track, report, and reduce carbon emissions.
Speakers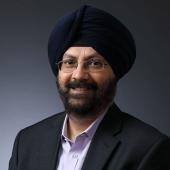 Jasmeet Singh
Executive Vice President and Global Head of Manufacturing at Infosys
Jasmeet is Executive Vice President and Global Head of Manufacturing at Infosys, a global leader in next-generation digital services and consulting. Infosys holds a strong ESG vision around climate change, technology for good, diversity and inclusion, energizing local communities, ethics and transparency, data privacy and information management and became carbon neutral in 2020, 30 years before the Paris Agreement deadline. At Infosys, Jasmeet is responsible for overseeing and growing client relationships in the Automotive, Aerospace, Defense, and Industrial Manufacturing sectors. Under his leadership, the sector has grown double digits for the past 2 years while improving the margin profile of his business.
Jasmeet is also on the Board of Fluido, a Finland-based digital transformation leader and Salesforce platinum consulting partner that became part of the Infosys family in October 2018. He is also on the board of Panaya, an Israel-based company that Infosys acquired in early 2015. Panaya is a leader in change acceleration, impact analysis and testing across SAP, Oracle and Salesforce-based ecosystems.
Prior to this, Jasmeet led the Financial Services business as the SVP & Industry Head for the Americas at Infosys. He has been instrumental in growing the business and deepening the relationships in this sector.
With over two decades of experience in IT and technology-driven business transformation, Jasmeet brings a deep appreciation of business processes and the usage of technology as a strategic differentiator for clients. He has a keen interest in the business value the manufacturing industry can derive from the intersection of technologies like IIOT, Automation and Machine Learning.
Jasmeet started his career with Tata Steel after completing his Bachelor's degree in Electrical Engineering from IIT (BHU) Varanasi. He also holds a Master's in Business Administration from the Faculty of Management Studies Delhi.
Jasmeet is based out of New Jersey, where he lives with his wife and two sons. He is an avid reader and enjoys playing tennis.