HR Driving Change for Gender Equity
How can you make your workplace environment more appealing to women, to minorities, to the LGBTQIA+ community? Join this session featuring senior HR leaders in the industry as they discuss hiring strategies, health and benefits offerings, incentivizing initiatives, and fostering a culture that attracts a broader group and promotes equality.
This event is part of the Bridging the Gap: Building an Equitable Workforce Series.
Speakers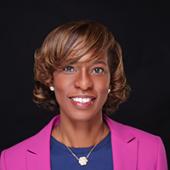 Monica Jackson
Vice President of Global Inclusion and Diversity (I&D), Eaton
Monica Jackson is a passionate diversity, equity, and inclusion advocate. She joined Eaton in May 2020 as the Vice President of Global Inclusion and Diversity (I&D). In this role, she is responsible for devising and leading Eaton's global I&D strategy to achieve the company's aspirational goal of becoming a model of inclusion and diversity.
Immediately prior to Eaton, Monica served as the Global Diversity and Inclusion leader for General Electric (GE) Aviation. At GE, Monica also served as Vice President of HR for NBC Universal in Los Angeles, California. Prior to that, she was Vice President, Human Resources, with the Nielsen Holdings Company. Her HR career began with Procter & Gamble, where she held both corporate and line HR roles of increasing responsibility.
A native of Dallas, Texas, Monica holds a Bachelor of Arts in Finance from Clark Atlanta University (HBCU) and an MBA in Human Resources from Indiana University. She is an alum of INROADS and The Consortium for Graduate Study in Management. She is a member of Delta Sigma Theta Sorority, Inc. and serves on the Equity & Inclusion Advisory Board for the Greater Cleveland Partnership, Urban League of Greater Cleveland Board and Cuyahoga Community College Foundation (Tri-C) Foundation Board.
Donna Tyner
Diversity, Equity, and Inclusion Lead, The Greenbrier Companies
Donna Tyner is the Diversity, Equity and Inclusion Lead for The Greenbrier Companies and previously worked as their Corporate Risk Manager. The Greenbrier Companies is a leading supplier of equipment and services to global freight transportation markets. Greenbrier designs, manufactures, and repairs freight railcars in North America, South America and Europe plus builds ocean going cargo barges.