People Spotlight
Driving Change for Equity
We recently had a chance to connect with two DE&I [diversity, equity & inclusion] leaders on "Driving Change for Gender Equity" (view the on-demand version). There were many thoughtful questions that we did not have a chance to address during the discussion. Panelist Donna Tyner, Diversity, Equity, and Inclusion Lead, at The Greenbrier Companies, has responded to the remaining audience questions you will see below. Thank you, Donna!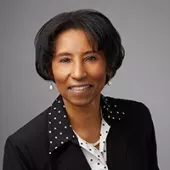 Donna Tyner
Diversity, Equity, and Inclusion Lead, The Greenbrier Companies
Donna Tyner is currently the Diversity, Equity and Inclusion Lead for The Greenbrier Companies. She previously served as the Corporate Risk Manager for 7 years. Her prior work experience includes: Allstate Insurance Property and Casualty Adjuster, State of Oregon Insurance Compliance Officer, State Risk Management Consultant and Senior Risk Analyst for the Port of Portland.
If you are including a DE&I section on your career website, how do you make it, so you aren't just 'another company' doing it?
The saying "actions speak louder than words" is applicable here. Company websites reflect organizational values, culture, and brand. The actions companies take in support of their DEI commitment, initiatives, or programs are what truly make them stand out.
Some websites are better at messaging than others with great layouts and videos, but in general, websites only have enough space to touch the surface, offering DEI highlights. Then, it is up to interested parties to dig deeper to see what the company is doing. To me, it is important to see that a company has a diversity section on the website because it shows that, at least on some level, they are aiming to cultivate a respectful and inclusive workplace.
How do you deal with a split workforce? By split, I mean half are very "old school" and not willing to accept DE&I initiatives. Many top leaders tend to "side" with that group, as many of them work in roles that make the company profit.
Here are some ideas:
Show the "old school" colleagues what is in it for them. Perhaps they do not fear change but perceive the loss of something in the unknown future. Explain how their careers can (and will) be enriched by your company's DEI program. Many opportunities stem from DEI commitments, including mentoring, joining employee resource groups, networking with colleagues, and meeting new external peers.
Explain the business case supporting DEI.
Explain how DEI builds and develops leadership skills. DEI can help anyone be a good leader while demographics shift.
How do you promote DE&I in your facilities when employees don't have the time or motivation to want to participate?
Here are two ideas:
Make it fun! For example, one of our locations hosted a "spin the wheel" activity to encourage employees to learn more about Greenbrier's DEI program. Randomly selected employees spun the wheel for a chance to win a $25 to $100 gift card. DEI program information was posted in the center of the wheel, which provided a simple way to keep DEI messaging at the forefront.
Promote DEI messages through activities such as employee recognition lunches or ice cream socials. These activities positively reinforce DEI programs because they are fun and relaxed. Events like these also present a great opportunity to hand out swag with your company's program logo or slogan. Work with your internal DEI team to come up with new ideas.
How do you ensure that the social issues do not dominate the workplace and create animosity amongst your workforce?
First, it's important to recognize that some people are not convinced of the value DEI efforts bring to an organization. These same individuals might also see conflicts at every step of rolling out a DEI plan. Something as simple as starting an employee resource group can be divisive. However, embracing conversations about concerns is a good thing. It's a critical part of the process and means that employees are engaged and comfortable talking to you. A clear vision of the workplace you want to see with consistent messaging tied to company values and its strategic business plan is key.
At Greenbrier, the core value of Respect for People is the foundation of our IDEAL commitment (inclusion, diversity, equity, access, leadership). We encourage all employees to help us create a workplace where everyone is valued, respected, and included, and can bring their authentic selves to work.
Are there any micro-learning opportunities you offer your employees to get a better understanding of DEI and certain focuses like generational gaps, being an ally to the LGBTQ+ community, etc.?
Yes, we tailor learning sessions to our audience (leadership, office staff, and production workers). Each group receives similar information but in the way that best matches their access to technology and work schedules. We use the "train the trainer" technique where employees volunteer to learn about the relevant DEI topics, then train their colleagues. The subjects can range from an introduction to IDEAL to micro-inequities, unconscious bias and more. I find it valuable to employ these peer-to-peer lessons, as employees become more engaged and invested in the topics and overall program.