Case Study
Launching New Capabilities
Insights on Advanced Manufacturing at Moog
Smart factory initiatives often involve complex projects and new technology deployments, even before adding in the complications faced in 2020. How are leading manufacturers managing smart factory advancements strategically in this climate? Earlier this fall we spoke with Bill Massaro, Director of Advanced Manufacturing in the Aerospace and Defense Sector at Moog, to learn from his experience.
Bill brings decades of leadership in operations, manufacturing, and strategic development to this latest role within Moog's Space and Defense group. We asked about changing priorities and lessons learned.
Discover what Bill had to say about the most exciting technological innovations for a lower volume, higher mix manufacturing business; how to identify and tap "zealots" to accelerate plant-level adoption; and how embracing an ecosystem approach may be even more relevant for a department of one.
We are impressed by the exportable insights shared by Bill (and we think you will be too).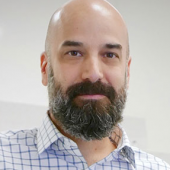 Bill Massaro
Director of Advanced Manufacturing in the Aerospace and Defense Sector, Moog
BUILDING ON ADDITIVE: FROM OPERATING GROUP TO ENTERPRISE AND BACK
Tell us how you came to the role as Director of Advanced Manufacturing and how it evolved.
"The role evolved out of a project, actually. I was one of the early adopters of metal additive about 10 years ago and produced the first machine at Moog. After moving to different roles in the company, two years ago we introduced additive across all our operating groups. I've maintained an accountability to our Space and Defense Group and have been advancing other technologies within our factories. There's a recognition within Moog that we've long been focused on technology for external products. Looking inward now, our factories needed a strategic approach to consider how we manufacture things."
What projects are you spending a great deal of your time on now?
"Our primary focus is on piloting technologies to determine what can be scalable. Certain technologies apply well to our business, but automation can be difficult to apply in a low volume, high mix business. What I've been targeting recently is data analytics, because our processes are data-heavy and we don't leverage it as much as we could. That's true for our external-facing products as well as internally within our factories. We're looking at machine vision, augmented reality, machine learning, and AI to see how they fit and can give us leverage on traditional measures: cost, on-time delivery, as well as quality."
What technologies and use cases are you most optimistic about for future innovation?
"Augmented reality. Not the traditional wearable only. It's more about projecting on to the hardware, which will give operators direct feedback; are you doing something correctly or not? It's almost an automated work instruction that is very integrated into what the operator is doing, giving immediate feedback. There's a lot of potential in this sort of hybrid of augmented reality and machine vision."
"Of course, we're also heavily invested in additive as a solution. The challenge is getting people to think different and design differently. One almost needs to throw out conventional thinking on how to build and design products. When we do, additive shows a lot of promise."
EMBRACING THE ECOSYSTEM FOR SMART MANUFACTURING
As one director within one operating group, how relevant is the notion of an interconnected "ecosystem" for introducing new capabilities across the factory footprint?
"It's relevant. It has not been my approach to engage someone to guide us on a strategy—I feel we have enough knowledge now in my background and expertise to do that. But, I tend to engage the OEMs, using the individuals that develop the technology as my resource. They're often very interested in working with us because they're looking for applications to prove their technology. I tend to engage some of these companies that are newer to the market because they're a little hungrier and we can partner with them to develop technology."
"We also work a lot with universities in developing new approaches, bringing in those third-party OEM developers for the technology side and the collaboration. We've worked with universities like M.I.T. and the University at Buffalo among others."
"We work a lot with the technical consortium groups, too—my peers and other companies that are trying to do similar things. We work together to develop a technology. I've done this a lot in additive; we share the burden and the cost, and the learning, and in the end we both gain but we both pay. You have to be careful in sharing IP and what you do with it, but you can develop it together."
What's a recent example of how you identified a new technology partner?
"That's an easy one and a plug for MAPI because it came out of a conference. I go to the more technical discussions at these events, and people share different solutions that they are using at their companies. I'll take those notes and go off and discover on my own. I use a lot of industry groups like this to learn who's using what. Some of it comes through industry partners, and I have a pretty good network for talking with folks within other companies that are doing similar things."
What are the most important success factors for bringing smart manufacturing changes to scale?
"I look for solutions that exist within industry, such as OEM solutions in the market, and expand based on what our needs are, allowing us to scale. In the past, we've done some custom solutions and one-offs within factories, however the IT infrastructure often can't scale to something that many sites can use."
"How do I introduce it? Primarily through introduction calls. I'll start with the discussion of an OEM, identifying an application within our company that fits. What I look for immediately is if the solution is secure. Since we're in space and defense, a lot of commercial solutions use cloud and don't have the security needs we have for government contracts. I wouldn't pursue those. Some are ready or could use some changes. At that point, I engage the sites, bring in the solution and, if we're convinced, normally a pilot will follow."
Aside from security, what other challenges do you face expanding these smart initiatives internally?
"The next major challenge is often getting time and attention from the [factory] sites. They have a lot going on and I'm talking about initiatives that may be a couple of years down the line—a long-term vision that may be where we want to be with our factories five to 10 years out. To pull away from the day-to-day work and start thinking strategically and long term has been difficult, especially being remote right now. It's a challenge to get that attention globally through video versus being there in person."
"There is a push from the top saying this is important. Moog has said collectively that we need to enhance our digital strategy. I accelerate this by identifying a point of contact at the sites, somebody within your organization whom I can work with a little bit more intimately, one-on-one. Once I have that point of contact, then I can usually move things more quickly versus trying to work with multiple people at a site."
"I seek out those people, I call them zealots, who are super excited about new technology and implementing change. You learn that they are the change agents, the people that can really drive initiatives through as long as they are supported by management. It doesn't have to be the manager either, it could be a manufacturing engineer that's eager to try something new."
REFLECTING ON COVID-19 AND OTHER LEARNINGS
How has COVID affected your smart manufacturing priorities? What's the outlook?
"From a capital and resource planning perspective, it's slowed us initially when we were figuring out the larger impact of COVID on the business. Within our Space and Defense Group, business really hasn't slowed. We've kept pace and even, in some cases, picked up. We took a pause and now we're back to business as usual."
"From an outreach and strategic perspective, I had been exploring different technologies, which would have included trade shows and discussions with peers. That's changed and moved to online and it's working okay. However, you lose a little bit by not going to trade shows, and you miss out on seeing the technology. It's slowed a few things in our discovery."
"Something else I was planning this year was to visit all of our manufacturing sites to educate folks on what the plan is and what the different technologies are. Travel restrictions have been very difficult, so a lot is remote, which has slowed the pace as well. I always say it's like talking to silhouettes on screen."
"I don't expect it to change much into the spring with travel. We're being creative and looking at how to do more remote and continue to engage and push along strategic initiatives."
What do you wish you knew before starting in the role with advanced manufacturing?
"Focus on influencing what is within your sphere of control. Where I've fallen into a trap, admittedly, is in thinking holistically. I would look at the whole system and say, well, what can I do to make it better? And sometimes you're boiling the ocean, it's too much. I've changed my perspective to say, what can I influence most? I take the inverse approach now and look for a solution at a specific point and make sure it can scale to the whole system, so that I'm influencing more. Another big one is to work within the 80/20 rule: get 80% of the solution in place, it doesn't need to be perfect. We fix problems as we go."
Any other advice you'd share with industry peers looking to accelerate advanced manufacturing today?
"There's a lot of technology out there, a lot of unproven technologies. Proof of concepts are important, pilots are important, even though we talk about pilot purgatory. They're necessary because you can quickly overinvest in technology that might not yield what you expect."
"Leverage your OEM and the peers and experts that know the technologies, but don't take it all at face value. A word of caution: look with a very inquisitive eye and make sure you get answers to all questions. When we talk about advanced manufacturing, it really must create value for customers. If it doesn't, we're probably not doing the right things. Creating value for our customers can be interpreted broadly, but it's a good goal, because if you're not doing that, then we as a business aren't doing the right things."
---
Many thanks to Bill Massaro and the Moog team for sharing their insights.