Case Study
Thinking Outside the Cube: Evolve Your Indirect Spend
"Although knowing where money was spent is useful, it's only a starting point for sourcing and taking corrective actions; a spend categorization provides a backward-looking perspective that can help you build a sourcing strategy."

— Andy Matyas ,

Managing Director of CoVest
There have been many products and services developed for sourcing and procurement departments over the last few decades, perhaps none more pervasive than the "spend cube." A spend cube can be a great data resource to help drive long-term strategy across a procurement department. However, if you are working in indirect procurement, or charged with achieving quick sourcing wins, you may be wondering if there is a more targeted approach. In this article, evaluate the traditional spend cube analysis process and discover more on a modern indirect spend categorization process to determine the best path to operationalize indirect sourcing projects. 
What Is a Spend Cube and Who Needs One?
According to GEP, "The spend cube is a review of spend data presented as a multidimensional cube. The dimensions usually reviewed include subcategories or variants purchased across the organization, stakeholders, or departments buying the category and comparative spend with different suppliers."  
Spend cubes are primarily used to serve procurement teams within an organization to provide greater insight into their company spend across various categories. One challenge in developing a spend cube is the prevalence of fragmented ERP systems, making it difficult to build even simple spend cubes for a multi-national or multi-business company. However, some companies, utilizing algorithms generated by artificial intelligence and self-learning methods, are already automating data cleanup and classification to streamline the process.  
While spend cubes do serve a purpose to indirect procurement teams, the laborious process can result in mounting consultant fees and a lengthy timeframe to achieve results. However, for some organizations they find the cumbersome process beneficial for the following reasons: 
Benefits of a Spend Cube:
Analyzing mountains of data can help prioritize and set your sourcing strategies. You can slice and dice your company's spend to analyze it from many different directions. You can establish one sourcing strategy from the many sourcing strategies that exist. 
Deciding which high-spending end-users to align with for maximum impact of your sourcing efforts. Identify suppliers you want to target for aggregation of spend and renegotiation. Most importantly, you're now able to funnel the company's spend through a global corporate commodity management structure to ensure the purchased items meet the application's fit and function.
A spend cube, although labor intensive, can cut across multiple categories within the organization and a solution is sourced for each category. The spend cube offers a holistic view of spend and can be particularly helpful for organizations who have undergone a digital transformation within the procurement process, resulting in the ability to readily access clean data.  
As an example, if you are interested in the MRO category (Maintenance, Repair, and Operation), this is the kind of information you can pull to develop your category management strategy: 
What locations or divisions are working with which MRO suppliers? 
How many MRO suppliers are utilized? 
How much spend in aggregate does MRO represent? 
Which site is spending this money, ranked in order from largest to smallest? 
Where are these sites located? 
Which suppliers are receiving this spend, ranked in order from largest to smallest? 
What line items make up the MRO spend? 
If you are headed down this path, the ideal solution may be to build a spend cube. However, there are potential significant drawbacks to using this solution. 
Drawbacks of Spend Cube Process
Time intensive: The spend cube build process typically takes 9-18 months to complete. 
Data obsolescence: Due to long timelines to build the spend cube, the data is often outdated by the time it is completed. 
Complex: Spend cubes often cover all Direct, Indirect, and Capex spend and reveal as much detail and minutiae as possible. It's a true trove of data if done right, but that can also lead to analysis paralysis and difficulty prioritizing projects. 
High Cost: It's huge! Working with a consultant can cost millions, and the issues identified above make operationalizing enough projects to recover the fees in savings a daunting task. 
While traditional spend cubes can be a good tool for complex holistic reviews across a procurement organization, they are costly and time consuming. Often the thrust of the focus on operationalizing the results is on higher dollar direct spend categories.
What Is an Indirect Spend Categorization and Who Needs One?
Indirect spend categorization is a good approach for organizations in which spend totals and detailed data is hard to obtain. This path starts with gathering spend by vendor or a GL report. A third-party analytics resource, such as a Group Purchasing Organization, can help with this process and use their collective member spend to provide access to leveraged supplier agreements, offering far better pricing than an individual organization can achieve on its own. 
The process begins with general ledger reports of all the indirect spend from a company. Then the spend is analyzed to understand the represented categories and run against accumulated and historical database spend to sort the general ledger data into categories based on the suppliers that provided it. From there, a company gains better insights into rationalized spend by category, vendor and location. With this information, you can prioritize category opportunities and know which suppliers to request data from. With a comprehensive dataset you can learn savings opportunities to consolidate category spend and deploy a leveraged agreement to generate more savings.
How does this Indirect Spend Categorization Process Differ from a Spend Cube?
The focused nature and speed to completion differentiates this spend categorization process. Traditional spend cubes are sprawling, all-encompassing projects that cover all a company's spend in painstaking minutiae. The CoVest indirect spend categorization process utilizes general ledger data (which is readily available to all companies) and leverages vast market data to drive fast analytics.
Categorization Process

Data Output Example
Benefits of Indirect Spend Categorization Process
Time to Completion: An efficient and thorough spend categorization typically takes 2-4 weeks. 
Quicker to Implement: The spend categorization model is meant to help quickly operationalize sourcing projects. Within two weeks the process includes developing spend buckets, aligning suppliers, and providing a sourcing plan. 
Iterative Process: The quick speed makes this process easily replicable. Often redoing the process every 6-12 months will help refine categories and identify new sourceable buckets (as seen below, this process can be a continuous cycle.) 
Cost Effective: Unlike the high cost of a spend cube, the spend categorization process can potentially be done internally, or with the help of an analytics partner at no cost. 
While the spend categorization process outlined isn't as all-encompassing traditional spend cube, it is far more practical for indirect spend teams. Whether you are building an indirect procurement team, building a new strategy, or reacting to procurement targets, most indirect teams are given a short timeline to establish a sourcing plan and start driving results. For that reason, you need an overview of your spend that can be quickly run, identifies key spend categories, and allows you to target sourceable areas to maximize savings. The indirect spend categorization process is uniquely designed to meet those needs. 
We have a Spend Categorization – Now What?
Although knowing where money was spent is useful, it's only a starting point for sourcing and taking corrective actions; a spend categorization provides a backward-looking perspective that can help you build a sourcing strategy. To achieve forward looking results, you need to leverage the spend categorization and your sourcing plan to target the most impactful categories and run sourcing engagements; whether that includes RFPs, direct supplier negotiations, or engaging with a Group Purchasing Organization. In many cases it will be a combination of all three.  
In order to do any of those sourcing activities, you'll need to collect the right spend data; either from internal systems or by reaching to suppliers. The indirect spend categorization will provide the roadmap to the most pertinent data to collect. And then the real fun starts. For many procurement teams in need of additional analytics and spend management support, the spend categorization process is only the jumping off point for a detailed sourcing and category management process.
A Better Way to Reach Your Goals
While traditional products geared towards procurement, like the spend cube, provide the details that allow for grand strategy discussions and reorganizing of sourcing initiatives over a long horizon, they often fail to capture the need to drive specific projects and immediate results. Indirect procurement teams today are tasked with managing more categories than ever, with fewer people, and with ever-present savings goals. Rather than long-term analysis long on theory and possibilities, these teams need practical, realistic, and timely solutions that can quickly be operationalized to drive adoption, compliance, and savings. An indirect spend categorization process can deliver meaningful results today.  
Undergoing a spend cube process is only one step in a sourcing and category management process, but it's often the most time consuming and costly portion. Utilizing a targeted indirect spend categorization approach will shorten the timeline by quickly identifying opportunities and moving towards sourcing and implementation quickly to achieve results and realize savings.  
---
CoVest is a Group Purchasing Organization focused on large corporations, founded on partnership, transparency, and providing value-added services. We enable members to realize significant cost savings through the utilization of our supplier agreements that drive down costs for indirect categories by leveraging the collective purchasing power of member companies.
Opinions expressed by contributing authors are their own.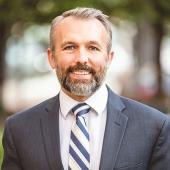 Andy Matyas
Managing Director of CoVest
As Managing Director at CoVest, Andy oversees CoVest's core MRO & Facilities Services platform. Andy has also drawn on his experience in finance to build an Analytics team focused on providing sourcing and category management tools for CoVest Members. In addition to Spend Categorization tools, the CoVest Analytics Team provides a wide array of savings, spend, auditing and compliance analyses for Members. Andy is a graduate of Ohio University (BA) and Cleveland State University (MBA).