People Spotlight
The Power of Courageous Conversations
We had the chance to connect with Nichelle Grant, Head of Diversity, Equity, and Inclusion at Siemens USA, on what inclusion and belonging mean to their company and particularly, how to support LGBTQ+ employees as we celebrate Pride. Nichelle is also a founding member of our new Diversity & Inclusion Council. Thanks to Nichelle for her insights!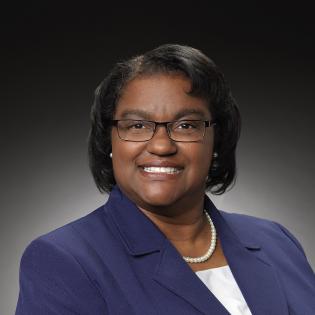 "My advice to leaders is this: It's important to remember that it's not just your products and services that have an impact on society; it's also the way you do business."

— Nichelle Grant ,

Head of Diversity, Equity & Inclusion, Siemens USA
Q1: Under your leadership, Siemens USA has received continuous accolades recognized by Forbes, Advancing Minorities Interest in Engineering (AMIE), the Corporate Equality Index, plus the Disability Equality Index and more showcasing commitment for LGBTQ+ and disability community inclusion. What are the next steps to continually drive a stronger workplace culture at Siemens and in the manufacturing industry overall?
One word that I've used when talking about building an inclusive workplace culture is "inevitable." It's not only the right thing to do; it's what the workforce of the future demands. And we want to be a company that leads the way. We want Gen Z to look at Siemens as a potential employer, and we want them to see us as a place that's done the work and made the right changes so that it's a place where everyone can be their authentic selves.
The accolades you mention are important to that effort, and we're really proud of them, but the real work happens on the ground as we create channels for people to learn, to speak up, and to be allies for their colleagues. I think this is where the new ideas and next steps start. And it's essential to the future of the manufacturing industry, which is really an important space to watch. We're seeing a massive worker shortage for manufacturing jobs nationally. To address this need and to drive innovation, we have to be champions for DEI in everything we do. We must open the doors wide, so that workers from different backgrounds and at different stages of their careers have an opportunity to thrive in this cutting-edge sector of our economy.
Q2: Promoting diversity in the workplace continues to gain traction as a top initiative for companies, rather than just within human resources and talent. Do you have any advice for leaders looking to expand diversity into different channels, such as vendors and partnerships?
Siemens' DEI strategy in the United States extends far beyond Human Resources. Its reach is intended to make an impact across our workforce, our workplace, and the marketplace. The marketplace represents our customers, vendors (or as we refer to them, suppliers), partners, and communities. In particular, we support small- and diverse-owned businesses through our Supplier Diversity Program, spending more than $720 million for goods and services from these businesses in fiscal year 2021. Our Supplier Diversity Program is focused on giving businesses owned by underrepresented groups, women, the disadvantaged, the differently abled, veterans, and other diverse suppliers the maximum opportunity to participate in our competitive contracting and procurement processes. We're proud that nearly a quarter of our suppliers are small and diverse, and that as orders have come to us, they have also gone to them, ultimately supporting well-paying jobs, and strengthening local economies. These relationships help make our products and services better, they add value to the marketplace, and advance new innovations.

My advice to leaders is this: It's important to remember that it's not just your products and services that have an impact on society; it's also the way you do business. And so, as we've sought to advance our own growth and competitiveness as a company, we recognize how these efforts are bolstered by the people we work with across our supply chain and by the organizations we choose to partner with.

Q3: Siemens regularly celebrates heritage and identity months with public series elevating the voices of leaders internally. Could you tell us how manufacturers can optimize potential feedback loops and create actionable change?
DEI is only truly leveraged when everyone is included and engaged, and we want that to happen during heritage and identity months, as well as beyond them.
At Siemens, we recognize that we all come to the table from different walks of life, and we all want to feel valued and heard. So, what we're really focused on is cultivating a sense of belonging, which is a human need, in our workplace culture. Because it's this feeling of belonging to a greater community that really drives engagement and listening, not to mention benefits in motivation, health, and happiness. For a business, it also translates to higher productivity and less turnover.
For example, we started an initiative called Courageous Conversations to help U.S. leaders and managers begin conversations about race and other DEI topics with their teams. The idea is that the more comfortable we are talking about these matters in the workplace, the more we can be open to new avenues for finding, attracting, and retaining diverse candidates; developing and mentoring employees; creating a shared sense of belonging; and living up to the values we stand for as a company.
The response to that initiative was strong. In just four short months, Siemens managers led more than 100 Courageous Conversations with thousands of Siemens employees at all levels of the organization. The conversations continue throughout the company as a powerful tool to keep an open dialogue on many DEI topics.
This is how we create the dialogue that will strengthen our organizational culture and build a more resilient organization as a whole. In acting as allies for one another, we can help shape more equal companies and more just communities.
Q4: Maintaining corporate culture within the hybrid environment remains a challenge in the manufacturing sector and beyond. Can you share how you are redefining what culture looks like through this mixed space?
What we've seen throughout the pandemic, even when shutdowns forced a majority of our workforce to go remote full-time practically overnight, was that Siemens employees continued to step up, continued to deliver for customers, and continued to work together to solve problems. It became clear that empowering people was foundational to how we move forward, along with leaders making regular check-ins, being transparent about priorities and offering flexibility where possible. Early on, in fact, Siemens embraced a model for remote work that allows employees to choose where they work best two to three days a week. And this really speaks to our company culture, where we're open to change and new ways of working.
In manufacturing, in particular, digital transformation is bringing new ways of working to the factory floor. And while there's often the worry that technology will put people on the sidelines, we can dispel that myth with a company culture that brings people along and creates spaces where it's possible for everyone to realize their full potential. What we're seeing in our factories is that change is inspiring excitement, not fear, as new training programs and multigenerational teams give people the opportunity to learn and work together.
Q5: Last year, Siemens sponsored the El Dorado School District's solar energy transformation, helping provide sustainable infrastructure and reducing emissions across the community. How should companies handle commitment to long-term projects, benefiting economic and social equity?
We see ourselves as more than a technology provider at Siemens. We're focused on how we can use that technology to shape a more just and equitable society. Creating healthier, more sustainable communities is one way we're putting that commitment into practice. And so, with partners like the El Dorado School District and others, we're deploying our technologies and capabilities to help them achieve their priorities for a greener energy future. I'll mention another project that really demonstrates this connection between sustainability and equity. It's a project that we're working on with ComEd in the Bronzeville neighborhood of Chicago. In creating the first utility-operated microgrid cluster in the United States, and delivering clean, reliable power there, we'll advance the neighborhood's long-term revitalization and resiliency.
We really believe we can meet our customers and partners no matter where they are on their sustainability journey. We're also leveraging our own experience as we help others, since Siemens was the first industrial company to commit to being carbon neutral by 2030. By 2020, we had lowered our emissions by more than half.
Q6: What did we miss?
We believe that belonging transforms people, communities, and businesses, and that is why we are striving to transform the everyday experience of our employees, customers, and society itself through our commitment to DEI. It's through a spirit of belonging—of seeing oneself recognized, included, and equal—that we enable innovation and find untapped opportunities to promote everyone's growth and potential.